The Ultimate in GMRS Communications
When You Need Things to Work Right Now !
The TRP-8000, formally known as the AmmoBox, GMRS repeater is built for everything required for Tactical GMRS Radio Coverage. Very Easy to Setup.  Super Simple to Use !
The TRP-8000 series of portable repeaters operate Analog Conventional and can be rapidly deployed to provide instant local or networked radio communication solutions. Nicknamed the "AmmoBox", this nifty gear is all you need in an emergency.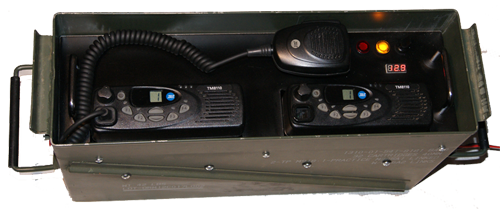 The 8000 is built, using best of class radio equipment & world-class Sinclair Duplexers - all built inside a lunch box sized, genuine 40MM US "Ammunition Can" that provides robust protection from dust, dirt, corrosion and most importantly, interface from outside sources.  In fact, the 8000 provides more protection than any other commercially available product on the market today! Designed to meet IP67 standards, the AmmoBox can withstand the harshest operating environments. Capable of delivering between 5W and 25W of output power, the AmmoBox can run for over 48 hours at a 40% transmit duty cycle at max power from a standard car battery.
Professionally Engineered - Professionally Tuned Duplexer providing -90Db Rejection with No Desense.
Tactical Features Include:
Solar Power Compatible!

WHITE DOT "575" (or Tunable) (Alt: GMRS Red, Purple, Blue, Green)

Water-Proof, Weather-Proof, Dust Proof, Drop Proof

Rubber Shock Mounted Hardware

Quick attach battery connection with Polarity Protection

Quick attach antenna with live fold-back power protection

At Glance Battery Voltage Indicator

Low Voltage Battery Warning

Bright LED Indicator Lights

Base Control Command Mode

Push to Talk MIC Included

Field Enabled Scanning

Custom Programing for your area
OTHER IMPORTANT FEATURES INCLUDE:
SOLAR POWER COMPATIBLE !

POWERFUL 25 WATTS OF PORTABLE RADIO POWER !

CHASSIS MOUNTED ANTENNA OR OPTIONAL EXTERNAL

BUILT IN A US MILITARY AMMUNITION CASE

WATERTIGHT & DUST-PROOF

ANTENNA & VSWR CIRCUIT PROTECTION

DC POLARITY PROTECTION

PROVIDES -90DB NOISE ATTENUATION
TECHNICAL:
POWER AND POLARITY ERROR INDICATORS

DIGITAL VOLTAGE INDICATOR

VARIABLE RF POWER 5 TO 25 WATTS

FREQUENCY RANGE: 136-174Mhz VHF 400-460Mhz UHF

MAY BE USED AS A COMMAND STATION

EXTERNAL OR ATTACHED MOUNTED ANTENNA

CTCSS / DCS TONE ENCODING

CW STATION IDENTIFICATION

VARIABLE SQUELCH TAIL

OPTIONAL PHONE PATCH

GENUINE SINCLAIR DUPLEXER - CUSTOM TUNED 5MHZ SPLIT VHF/UHF

DUPLEXER MOUNTED ON RUBBER SHOCKS TO ABSORB VIBRATION

VSWR PROTECTION

REVERSE POLARITY PROTECTION

LIGHTENING PROTECTION
ELECTRICAL SPECS:
5 TO 25 WATTS OF RF POWER
SOLAR COMPATIBLE - 12 Volts DC batter
Sinclair Duplexer VHF 136-174 Mhz UHF 400-460 Mhz 5 Mhz offset between TX/RX
Maximum Desense .08Dbm @ 20 Watts
Maximum Insertion Loss: 1.2 Dbm
MINIMAL current draw: 100ma draw on standby / 2.2Amps on Transmit (15 watts)
Reverse Polarity Protection using Texas Instruments regulator board
Reverse VSWR Protection - Protects against poor antenna or High SWR
** About custom tuning - This repeater incorporates a mobile duplexer, the minimum split between the transmit and receive frequency must be 5Mhz +- and maximum should be no more than 10Mhz +-
Use This Form To Contact Us With Your Enquiries