Built Tough
Will last a lifetime
Full 5 Year Warranty
VHF High & Low Power Portable Radio Repeater Systems
For use in Public Safety, Forestry, Fire, Construction, Remote Camps, Remote Mining
 
40 WATTS of Extreme Portable Power in a 40mm AmmoCan Utilizing The Kenwood TK-7180 in a genuine Back- 2-Back configuration !
The TRP-10000-K is our best system yet!  Built on the TK7180-H Back 2 Back platform, the TRP-10000 incorporates some serious technology. We wrap it up in a minimal sized, 40mm AmmoBox that acts as a faraday cage.
Built using a custom tuned Sinclair duplexer, ATmega Logic Controller, Texas Instruments polarity protection and much more, the TRP-10000-K gives you real bang for your buck!
SPECS:
Operational Frequency Range VHF 136-174Mhz
RF Power 5 Watts to 40 Watts Output
Standby (Receive) Current Draw 330ma (.3 amps) from a 12 Volt Source
Transmit Current Draw @ 30 watts RF 7300ma (7.3Amps DC Current)
With the introduction of our newest product, the TRP-10000-K, this combo portable / fixed station repeater combines the ruggedness and practicality of a  portable system with all the benefits of a high power, high performance "fixed" repeater all-in-one.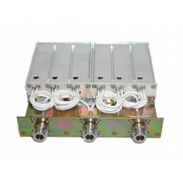 Each repeater is built with a genuine Sinclair duplexer; tuned specifically for your application
Our repeaters are built "Military Tough" to take into Extreme Environments where no other repeater was designed to go.
Use This Form To Contact Us With Your Enquiries